Giza, Center of Earth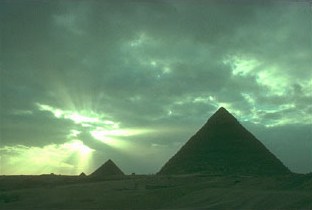 The Great Pyramid of Giza.
Tenaciously it is defying time as well as interpretations of a sworn in believing-community about its reason for existence.
In ignorance of the proven facts, that group, based like a religion on dogmas, believes in the Great Pyramid as a gravesite, a necropolis.
As the following pages show, actually it is a gravesite, namely of that phantasy construct, well known as Egyptology, because the ancient creators of the pyramid possessed knowledge, which no egyptologist would award them today.
Read now about the rediscovery of Giza as the geographical center of Earth...
Image Copyrighted by Historylink101.com & found at Egyptian Picture Gallery.