Mathematical World-Formula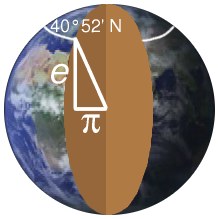 With a new calculation based on current maps (s. next page) I was able to verify and specify Wood's result. The geographical center of Earth is at 40°52'0"N 34°34'0"E.
The latitude of this result, which was determined with a calculation grid of 2.3 miles on the surface, is defined coincidentally by two of the most important fundemental mathematical constants, π and e! It is the smallest angle in a right triangle with a side ratio of e / π.
The connection between the most fundamental mathematical constants is generally represented via Euler's Identity: eiπ + 1 = 0
Incidentally, on that very same latitude on Mars, Cydonia is located, with its 1.5km large rock sculpture Face on Mars and the five-sided D&M Pyramid, even larger. 2001: A Space Odyssey, Stanley Kubrick's well known movie, also presents that location, this time on the Moon.
One coincidence does not arrive alone, so yet another is waiting to be discovered...