The Second Pyramid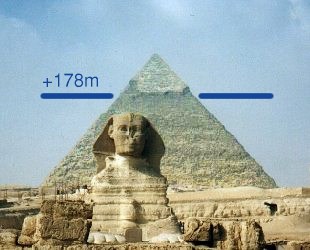 Striking at the Second Pyramid of Giza, is the sharply defined upper quarter part of the limestone casing.
Incidentally that sharp border marks the sea level at 178 meters above todays level!
Also the shape of the waste edge reminds of water erosion by waves breaking at a steep coast. But maybe it is just a symbolic hint, as nobody can prove if the pyramid wasn't intentionally planned in this shape.
In written history, there is one reference to pyramids surrounded by water. The Hellenic historian Herodotus mentions them in his book Inquiries, book 2, chapter 13. At such a high sea level, in fact only the two large pyramids at Giza would project out of the water, about 33 meters.
The new shore line line, from which these artificial islands are visible, is within the range of vision only a few kilometers away in the southwest...
Picture source: The Shunya